So right now I am part of a wonderful reading group on Facebook and we are doing a book study on 'Women who run with the wolves'. Great stuff!!
Synopsis
Within every woman there lives a powerful force, filled with good instincts, passionate creativity, and ageless knowing. She is the Wild Woman, who represents the instinctual nature of women. But she is an endangered species. In Women Who Run With the Wolves, Dr. Estés unfolds rich intercultural myths, fairy tales, and stories, many from her own family, in order to help women reconnect with the fierce, healthy, visionary attributes of this instinctual nature. Through the stories and commentaries in this remarkable book, we retrieve, examine, love, and understand the Wild Woman and hold her against our deep psyches as one who is both magic and medicine. Dr. Estés has created a new lexicon for describing the female psyche. Fertile and life-giving, it is a psychology of women in the truest sense, a knowing of the soul.
Here's what I'm reading at the moment!
One thing I realized early on- the movie is totally different! :)
What I'm reading now... keep the night light on!
Now, for the first time, this astonishing novel is made available in book form, complete with the original colored words, vertical footnotes, and newly added second and third appendices.
The story remains unchanged, focusing on a young family that moves into a small home on Ash Tree Lane where they discover something is terribly wrong: their house is bigger on the inside than it is on the outside.
Of course, neither Pulitzer Prize-winning photojournalist Will Navidson nor his companion Karen Green was prepared to face the consequences of that impossibility, until the day their two little children wandered off and their voices eerily began to return another story -- of creature darkness, of an ever-growing abyss behind a closet door, and of that unholy growl which soon enough would tear through their walls and consume all their dreams.
What I'm reading now...
What I'm reading now!
"Forever" by Maggie Stiefvater
Book Review!!
Our June Read! Can't wait!!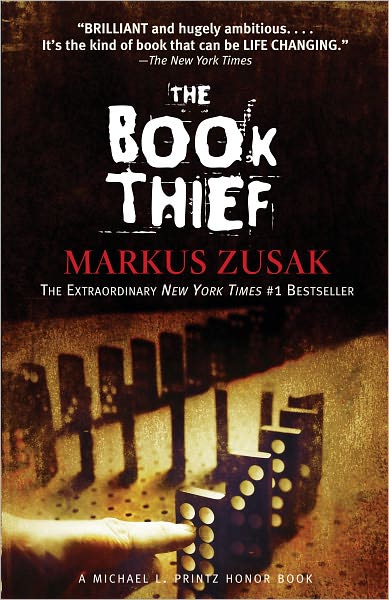 It's been decided! Our Tuesday booktalk group is reading, "The Book Thief" for our June read!! I'm finishing up "The Crimson Petal and the Red". All I can say is that I'm glad I did not live in that era! Women were treated terribly!! This book is kind of like Pretty Woman meets Jane Eyre!